Podcast: Play in new window | Download
Subscribe: iTunes | Android | RSS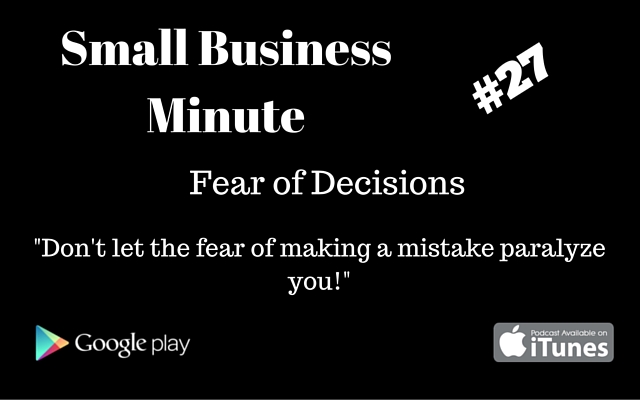 As entrepreneurs, we are faced with a daily buffet of decisions we must make. Some days the sheer quantity can overwhelm and dishearten an individual. Granted many decisions are simple and require little or no effort, however they all aren't and this can really cripple an individual if they're afraid to make a mistake
The saying "I've learned more from my failures than my successes" is one often expressed by many successful entrepreneurs. They learned early on that failure is a big part of being successful. What you learn and how you apply that lesson, is the true test of your ability to survive the entrepreneurial journey.
Most of us didn't learn to ride a bike on the first try. We fell, got up and tried again and again until we got it, then pedaled off to freedom. Somewhere along the line we lost that innocence and started worrying about all sorts of unimportant things, like what people are going to say or think about us if we fail? I believe it was Dr. Phil who said that "If you're worried about what people are going to think, you'd be surprised how little they care!" In other words, we're never as important as we like to think we are.
Being the eternal optimist, I prefer to look at decisions from the perspective of "What if I'm right?" I find that we're right more often than we're wrong and the more decisions we make the better we get at the process. That of course assumes we take the time to review both our successes and failure so that we may learn from each.
So don't let the fear of making a mistake paralyze you.
I'm Greg Weatherdon and this has been your Small Business Minute.
Copyright © Greg Weatherdon 2016
If you found this helpful, Tweet, Like or tell a friend.
Sign up above to receive email notification of the latest update to this blog