Profit, that elusive goal that frustrates many a business owners. To be sure, many businesses are just bad ideas that never should have been started in the first place. However, there are plenty of others that are well run with decent revenues but for some reason they aren't as profitable as they should be.
When helping business owners, one of the first places I look is their pricing model. Other than suggesting some adjustments, their pricing doesn't appear to be the issue. Take a minute and checkout episode #47 Pricing For Profit for more insight into pricing.
A little probing into customers and marketing initiatives often uncovers a flaw in their sales and marketing activities – namely geography! The problem is rooted in the fact that these businesses are casting their nets too wide. As a result, they fail to generate critical mass for their services in a single geographic area. This is where the concept of clustering can help increase awareness for certain businesses and profits for most.
What is Clustering?
Clustering, is nothing more than grouping your service deliverables or offerings around key geographic areas. Clustering can be applied to many types of businesses and services.
Most major sales organizations have been using clustering for decades. Sales forces use clustering as a way of making the maximum sales calls with minimal travel time between each location. Most delivery companies do the same to generate the necessary efficiencies needed to stay competitive.
Although you would think the concept of clustering is common sense, it has been my experience that it's not.
To better illustrate, the following are a couple of examples:
Clustering for Service Businesses
Consider the example of a service company. This could be anything from a landscaping business, to equipment repair or a roofing company. It's not uncommon for many of these companies to be running all over the city, performing their services throughout the day.
For many this comes about because of their marketing and promotion activities. Countless businesses owners wrongly assume that they need to advertise to the widest possible group of customers in the largest geographic area. Often, they have been convinced that, for just a few dollars more, they can blanket the whole city or region instead of focusing on a tighter geographic area.
Appealing as that sounds, this shotgun approach can lead to huge inefficiencies as they now run around the city burning fuel and man hours going between jobs. When you consider that many service company use lawn signs to promote their companies, having many signs in a tight geographic area drives higher customer awareness of your company. As an added bonus, this may help your business development initiatives because people are familiar with your company name.
Granted, every city and business is different and focusing on just one area may not be feasible. However, clustering can still be effective in these situations by limiting your service to certain areas on specific days of the week. For instance, we work in the East end on Monday, South end on Tuesday and so on.
Clustering in this case, ultimately allows you to service more customers during a single day with a greater number of billable hours at reduced costs.
Clustering for Retail Businesses
Retail businesses can also benefit from clustering and save significant money in their advertising and promotions costs. The first thing you need to do is to understand where most of your customers are coming from. By simply collecting their postal or zip code, you'll quickly see a pattern emerge from key geographic areas. One thing that may surprise you is that most of your customers aren't coming from as far as you think.
A survey by Brightlocal found that the average time that people will spend in a car to travel to a business, ranges from 12-23 minutes. They have a wonderful infographic that depicts various types of businesses and the time people are willing to travel to them.
Graphic courtesy  of www.brightlocal.com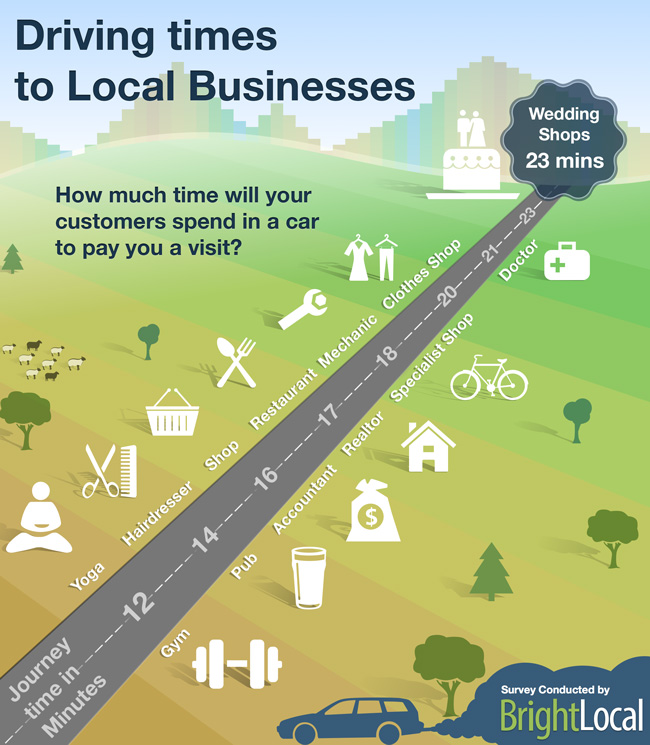 In todays highly competitive environment, finding efficiencies in every part of your business is mandatory and can't be left to chance.
So, if you want to increase your profits and the effectiveness of your promotions, you should consider the concept of clustering.
.
Copyright © Greg Weatherdon 2017
Sign up above to receive email notification of the latest update to this blog.
Get More LIFE Out of Your Business
You shouldn't be the hardest working person in your company.
Many small business owners find that even after the struggling start-up years, they're working too many hours and still managing every aspect of their businesses.
Greg Weatherdon has been there, done that. As an entrepreneur, he learned not only how to get a business to the point of running smoothly, but also how to reduce the number of hours he worked, delegate more responsibility to his employees, and take longer vacations while his business chugged along like a well-oiled machine. And now he is providing the secret to success.
Do you suffer from any of the following?
1. Business ownership isn't living up to the dream.
2. Endless workdays.
3. You can't find good people.
4. Profits are less than expected.
5. You can never take a vacation.
You're not alone. But there is a solution. As Greg demonstrates, with some time and effort, you really can Get More Life Out Of Your Business.